Nomorobo Verizon Review for Blocking Unwanted Phone Calls
Advances in technology have made it possible for marketers and others to make calls inexpensively to any mobile or other phone, any where in the world, usually with a fake caller ID . These automated phone calls, which usually have a prerecorded message, are called robocalls and the number of these robocalls have increased rapidly in the last few years. Many individuals consider these phone calls to be a menace as they waste their time attending to these unwanted calls, and may also miss important calls in the process. Nomorobo from Verizon allows phone users to conveniently block unwanted phone calls and this Nomorobo Verizon review provides an overview of how robocalls can be blocked.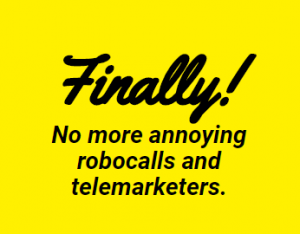 There are two versions of Nomorobo from Verizon, a free basic version for landline and VoIP phones and a premium version for smart phones. The free version of Nomorobo is available for all VoIP landlines, and does not have any monthly or activation fee. It offers protection to the landline phone all 24 hours of the day, all 365 days of the year and can be easily activated. There are no ads to be viewed or other terms for availing the free service for landlines. Over 779000 robocallers are listed with Nomorobo, so that most robocalls are blocked. Those who do not like the service, can always switch off the Nomorobo service quickly and easily. Any number of landline VoIP can be used for this free service .
The premium version of Nomorobo is available for smartphones and offers affordable protection for smartphones, with fees of $1.99 per month, per device. The service offers protection to the smart phone throughout the year, all 24 hours of the day. No annoying ads are shown on the mobile phone for users availing of the service to block robocalls. Like the landline version, the premium version of Nomorobo also blocks 779000 robocallers, ensuring that the smartphone users do not waste their time attending to unwanted phone calls. A free 14 day trial is offered to smartphone users who wish to check the effectiveness of the service, before subscribing.
Nomorobo Verizon Review
Smartphone users having Android os phones and Iphones can avail of the Nomorobo service from Verizon, by downloading the app from the App store for Iphones or on Google play for android phones depending on the type of smartphone. The phone number of the caller is displayed on the smart phone along with a message that it is a robocaller, for messages from telecallers, so that it can be safely ignored by the phone user. The Nomorobo service is accurate and does not block legitimate automated phone calls like messages from schools and reminders related to prescription of medicines or payment of credit card bills. It works will all mobile phone carriers

Nomorobo does not work on the basic dial tone services from Verizon. For activating Nomorobo for the landline, the user has to signup at Nomorobo.com. Then they have to login at the Verizon Digital Voice Fios portal and activate Nomorobo for their account. The first ring from callers is monitored, and if it is a robocaller, the phone does not ring. The Nomorobo service is widely appreciated and is the winner of the Robocall Challenge conducted by FTC. This Nomorobo Verizon review should help those who receive a large number of phone calls from telemarketers.

Tags: