Verizon Introduce FiOS Prepaid Plan with no contract start from $60/mo
Starting this week, Verizon introduce their FiOS package for Internet, TV, and phone services on a prepaid basis. This new FiOS prepaid plans don't require annual contracts, deposits, or credit checks or unexpected charges. So you may pay for 1 month only start from $60 for cheapest package. FiOS prepaid comes with only one Internet speed choice, 25Mbps upload and download. More slower than Verizon's Fios regular plans start at 50Mbps but the cheapest price start from $70.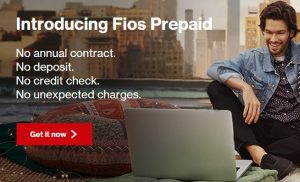 Prepaid service very suitable for people who have bad credit or want to avoid long-term contracts. Prepaid service also offers a slightly lower price than the regular entry-level tier, which makes sense since the speeds are slower. The 25Mbps Internet-only prepaid plan costs $60 a month plus taxes and fees, with a Wi-Fi router included. "FiOS prepaid includes the equipment you need at no additional charge," Verizon says. Professional installation is $90, but self-installation is free.
There are also FiOS prepaid bundles available, Internet and TV starts at $100 a month, while a bundle of all three starts at $110 a month. Verizon's contract plans generally have cheaper starting prices for bundles, but again, there are equipment rental fees, and those prices rise significantly once the discounts expire.
Verizon FiOS prepaid
Verizon FiOS prepaid complete bundles will get all, internet, tv and phone with equipment included at no additional charge. The price is $110 a month plus taxes and fees. You will get below are:
– Fios 25/25 Mbps Internet
– Home Phone
– 1 HD set-top box
– Fios Custom TV
– Wi-Fi router

FiOS prepaid service is available in all FiOS areas, Verizon said. There was no mention of making prepaid available in areas where Verizon's network is still using slower DSL technology. Fios Prepaid is a new way to experience Verizon 100% fiber optic network on your terms.

Tags: