Verizon Fios Internet Prices and Review
Fiber-optic is the latest innovation in internet connection and Fios is Verizon's flagship offering. Verizon Fios internet prices are packaged to suit everyone's needs. With excellent customer support and blazing fast upload and download speeds, Verizon remains on top of the game in providing the best connection.
Whether you are a single user or a family of four, there is always a package that will meet your need for fast internet connection.
What is Fios?
Fios is Verizon's newest offering of high-speed internet connection. It is supported by a 100% fiber-optic network that is capable of delivering speed of up to 500 Mbps for both upload and download.
With this type of connection, gamers can rejoice and say goodbye to annoying lags. Internet users can also say adios to unnecessary waiting for videos to load and buffer.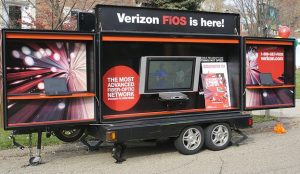 Availability
Fios is not yet available across the country. There are only a few selected states where you can avail of this service. While waiting for fiber-optic connections to be accessible in the area, Verizon provides high-speed DSL packages.
As of, Fios is available in select cities in the states of Connecticut, Delaware, District of Columbia, Florida, Maryland, Massachusetts, New Jersey, New York, Pennsylvania, Rhode Island and in Virginia.
Packages
Fios is being offered in three different packages that customers can choose from.
The first package is solely for internet connection. The Fios Double Play is a combination of internet services and cable shows, while the Fios Triple play is a combination of internet and cable services, plus a home phone.
Prices
Verizon's Fios is offered from $39.99 – $104.99. The price range will vary depending on the subscription availed by the customer. The speed and the bundles will dictate the price of the service.
If you want to just avail of internet connection, the Fios plans start at $39.99 and will give you 100/100 Mbps connection. The higher plan is for $79.99 and already has a gigabit connection (940/880 Mbps). As a promotion, Verizon is also throwing in HBO NOW for free for the first six months of subscription.
It is best for customers to carefully look at what's included in the bundle as what sets the price other than the internet speed is the number of channels included.
The bundled service or double play starts at $49.99 and would include 50/50 Mbps speeds, with one premium channel on top of the Fios TV local. Customers who will opt for the bundle $74.99 will not only get up to 940/880 Mbps upload speeds, they will also get to choose the types of channels they want.
Starting from $89.99 consumers will not only get gigabit connection speeds but will also have more than 330 channels with 110+ in HD resolution. For $15 more, consumers will get more than 405+ channels with 140+ channels in HD.
Fees
As with other providers, there is an installation fee for Fios internet which is priced at $80, however, there are instances that the fee can get waived. You will also be needing a compatible router, which Verizon sells for $149.99 or you can rent it for $10 a month.

The Fios plans have a contract period of either 1 or 2 years and in the event of an early termination, there is a fee of $165 for basic plans, while the ones with gigabit connection have a $500 early termination fee (ETF).

If you want smoldering high-speed internet connection with unlimited data then Fios is for you.  Verizon Fios internet prices are a bargain given the speed it offers and the entertainment you get.

Tags: