T-Mobile Premium Device Protection (PDP) Plus Available Starting May 7 for $15
T-Mobile yesterday raised the new gold standard in device protection, service and support, Premium Device Protection (PDP) Plus. PDP Plus builds on T-Mobile's lineup of Premium Device Protection services now adding McAfee® Security for T-Mobile with ID Protection. And PDP Plus goes even further, giving you VIP-level assistance from Tech Personal Help Desk for all your other devices that connect to the Internet via your T-Mobile phones, tablets or hotspots.
T-Mobile PDP Plus is available starting May 7, 2017 to customers buying a new device and adding a new line of service. T-Mobile PDP Plus pricing is $15 per month.
With $15 per month you will get identity theft protection tools with 24/7/365 dedicated agents to provide Lost Wallet and ID Restoration services backed by $1 million insurance for qualifying recovery expenses. Data Protection against viruses and online threats and including privacy protection for up to 10 compatible devices, including phones, tablets and even your PCs and Macs. Also includes a password manager and anti-theft features like McAfee's CaptureCam™ that takes a photo of whoever is trying to unlock your phone (after 3 failed attempts) and emails you their location!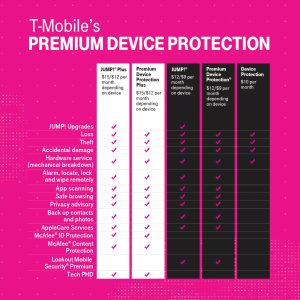 Device Protection service also provides coverage for accidental damage and hardware service—for any mechanical breakdown—as well as lost and stolen devices. AppleCare Services for a newly purchased or financed iPhone or iPad provides 24/7 priority access to AppleCare technical support (via chat or phone); low service fees—like just $29 for iPhone screen damage and free battery service; Apple-certified repair or replacement at Apple Stores and Apple Authorized Service Providers; hardware service with genuine Apple parts; software support for iOS, iCloud, and Apple-branded iOS apps; and hardware repairs and service backed by Apple, the people who know iPhone and iPad best.

You will get Tech PHD (Personal Help Desk) provides VIP-level access to immediate, personal technical and diagnostic support via online chat, phone and self-serve resources for devices that connect to your T-Mobile phones, tablets and Hotspots – like printers, routers, TVs and game consoles.

For additional, if you have purchased a new device and added a protection plan in the last 60 days are eligible to upgrade to the new JUMP! Plus, which includes PDP Plus. With JUMP! Plus, you get the best device upgrade program in US wireless – letting you upgrade when you want – and unparalleled protection for your device and virtually everything on it. This includes customers on T-Mobile ONE, Simple Choice, T-Mobile ONE No Credit Check and Simple Choice No Credit. No matter your device protection needs, the Un-carrier's got you covered!

Ok, that'all for T-Mobile PDP Plus information.

Tags: