Get 1 GB Free from Verizon Selects
What is Verizon Selects? Verizon Selects, part of the AOL Advertising Network, personalizes the ads and content you see using information about your web browsing, app usage. Beside that your device location, use of Verizon services and other information about you such as your postal/email addresses, demographics, and interests.
The Verizon offers a growing variety of free services, including The Huffington Post, MapQuest, and go90, that are made possible by advertising. The best advertising is for something you might actually want, and that is what we want to give you.
Verizon protects your information and does not share information that identifies you personally other than with vendors and partners who work for us. You can change your choice at any time. Your choice here doesn't affect any of your other Verizon services.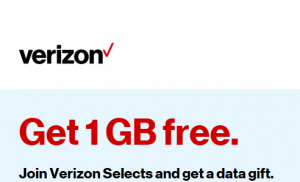 How to  join Verizon Selects?

You can learn more about how to participate by visiting the Verizon Selects Preferences Center in My Verizon and following the prompts to opt in.

Get 1 GB free data gift if you join Verizon Selects. You must be 18+ years old to redeem the promotional data offer. This promotion is offered to Verizon postpaid wireless consumer subscribers only within the contiguous United States with a qualified plan to receive data paid for and solicited by the sponsor. Promotional data can only be applied to domestic data usage.

If you have met all the conditions and are eligible to receive the promotion data offer, the data will be automatically applied to the Verizon Wireless account associated with the Verizon Wireless mobile phone number provided by you and will be shared by all lines on the Verizon Wireless account. The promotional data will be decremented before your monthly data allowance is charged (in other words, we use the promotional data up before your monthly data allowance) and it will expire at the end of your next scheduled bill cycle regardless of whether or not you use all the data allotted.

Tags: