Sprint Unlimited Cell Phone Plan only $18 per month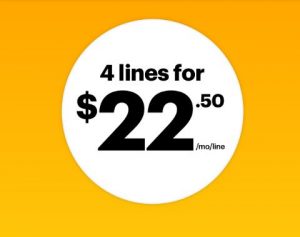 A wireless company Sprint offer unlimited data plan only $90 per month if you get 2 up to 5 lines. Sprint claim this price have 50% off Verizon and AT&T rates. So if you take 5 lines, you just pay 18 per each smartphone per month. This Sprint Unlimited Cell Phone Plan has include HD video and 10 GB Mobile Hotspot.
This promotion is saving until 3/31/18 then after that become $60/mo for line 1, $40 for line 2 and $30/mo for lines 3-4. With this unlimited package data, you can stream video at up to HD 1080p, music at up to 1.5mbps, gaming at up to 8mbps. Data deprioritization during congestion. MHS, P2P and VPN reduced to 2G speeds after 10GB/mo. Pricing shown with AutoPay discount applied w/i 2 invoices.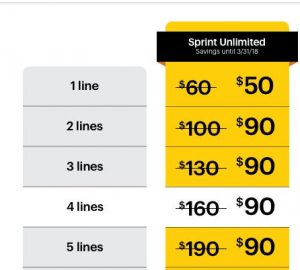 Please note for other cost that will charged by Sprint. Month charges excl. taxes & Sprint Surcharges [incl. USF charge of up to 16.7% (varies quarterly), up to $2.50 Admin. & 40¢ Reg. /line/mo.) & fees by area (approx. 5–20%)]. Surcharges are not taxes.

Sprint will charge activation fee: Up to $30/line. Credit approval req. Sprint Unlimited Freedom Plan: Reqs. eBill. Incl. unlimited domestic Long Distance calling, texting & data that streams video at up to HD 1080p, music at up to 1.5mbps, gaming at up to 8mbps. & 10GB of high-speed Mobile Hotspot, VPN & P2P data. After the 10GB, MHS, VPN & P2P usage limited to 2G speeds. Third-party content/downloads are add'l. charge. Sel. int'l. svc. incl. see sprint.com/globalroaming. Plan not avail. for tablets/MBB devices. Avail. on discounted phones for add'l. $25/mo./line. AutoPay: to receive $5/mo. discount you must remain enrolled in AutoPay.

Please also to take note the limitation,  If you use more than 23GB of data during a billing cycle will be deprioritized during times & places where the Sprint network is constrained. Sprint claim this limitation to improve data experience for the majority of users, throughput may be limited, varied or reduced on the network.. if off-network roaming usage in a mo. exceeds: (1) 800 min. or a majority of min.; or (2) 100MB or a majority of KB.

Tags: