2017 Virgin Mobile Plans USA Prepaid Unlimited 4G LTE for $60/mo
Virgin Mobile USA announce new prepaid unlimited plan for 2017. Virgin Mobile Plans USA pricing is $60 per month with all unlimited services. They  named this product with "Data Love Unlimited" plan. Free your phone with data love unlimited.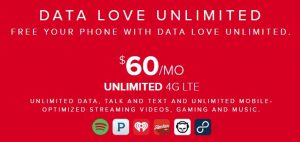 You will get below if you pay this DATA LOVE UNLIMITED prepaid plan.
– UNLIMITED 4G LTE
– UNLIMITED DATA
– Get unlimited TALK AND TEXT
– UNLIMITED MOBILE-OPTIMIZED STREAMING VIDEOS, GAMING AND MUSIC.
Mobile optimized means video streams at up to 480p+ resolution, music at up to 500 kbps, streaming cloud gaming at up to 2 Mbps. Data deprioritization will applies during congestion. Unlimited voice and data services are while on-network only. Once plan's high-speed data allotment reached, speeds reduced to 2G speeds until monthly plan cycle ends. Mobile Hotspot data not included.
Virgin Mobile USA, owned by Sprint Corporation has no annual service contracts; service subject to certain terms. Plans are domestic only and include unlimited data, talk, text & 50 domestic voice roaming minutes. Data packs available for select plans/devices only & expire when depleted or 30 days from purchase date. For Limitless Music, some streaming partners may require paid subscription or assess other fees. Cloud streaming, song downloads, video content, non-audio content and other data sent by streaming partners excluded.
Virgin Mobile Plans USA
Offers and coverage not available everywhere or for all phones/networks and subject to change without notice. Sprint 4G LTE and Sprint 3G networks reach over 290 million and over 288 million people, respectively. The Nationwide Sprint Network for voice services reaches more than 298 million people.

Please note if you use more than 23 GB of data during billing cycle will be deprioritized during times & places where the Sprint network is constrained. To improve data experience for the majority of users, throughput may be limited, varied or reduced on the network.

That's all for Virgin Mobile Plans USA Prepaid Unlimited 4G LTE. Choose your best prepaid unlimited plan.

Tags: