H2O Wireless Unlimited Plans for $27 Monthly
H2O Wireless provide no contract wireless services on the nation's largest and most reliable GSM network. Get Monthly Unlimited plan as H2O Wireless Unlimited Plans start from $27 per month. Get Pay As You Go plans with phones from every major brand for every budget.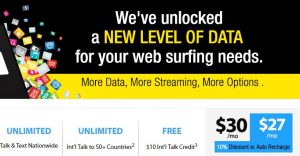 With cost $30/mo you can get
– 3GB 4G LTE DATA and UNLIMITED at up to 2G thereafter
– UNLIMITED Talk & Text Nationwide
– UNLIMITED Int'l Talk to 50+ Countries, Int'l Text
– FREE $10 Int'l Talk Credit3
Below list of 50+ Countries that you can call unlimited every month.
Andorra
Argentina
Australia
Brazil*
Canada
Chile
China
Colombia Barranquilla & Cali
Costa Rica
Croatia
Cyprus
Czech Republic
Denmark
Dominican Republic
France
Germany
Greece
Guam
Hong Kong
Hungary
India
Indonesia Bandung & Jakarta
Ireland
Israel (Exclude Israel Palestine)
Italy
Japan
Latvia
Luxembourg
Malaysia
Malta
Mexico
Netherlands
New Zealand
Norway
Pakistan**
Peru
Poland
Portugal
Romania
Russia
Singapore
Slovakia
Slovenia
South Korea
Spain
Sweden
Switzerland
Taiwan
United Kingdom
Venezuela
Notes:
*Calls to Brazil are limited to the following cities listed: (Belo Horizonte, Brasilia, Curitiba, Porto Allegre, Rio De janeiro & Sao Paulo)
**Unlimited Mobile to Mobile and Landline Calling to Pakistan: Limited time offer, exclusively on the $60 monthly unlimited plan. Calls to Pakistan mobile and landline numbers will be terminated at 60 minutes, but you may re-initiate the call thereafter.
H2O Wireless Unlimited Plans
Unlimited landline calls to 50+ countries; select countries also include unlimited calls to cell phones. Each monthly plan account can dial up to 10 unique international telephone numbers each month, which resets upon the 1st of each month, regardless of plan expiration. Calls to countries other than the U.S. will be terminated at 60 minutes, but you may re-initiate the call thereafter. Does not apply to calls off network/special locations.

If you pay with auto recharge, you will get discount 10% become $27/mo. You also can choose next step plan for $40, $50, and $60 per month. The differences is for 4G data quota each successive get 8, 10 and 12 GB.

Tags: