When is the New Blackberry Coming Out 2017
When is the New Blackberry Coming Out 2017. The BlackBerry KeyOne  that previously codenamed 'Mercury', is official, with TCL Communications giving the handset a full official outing at this year's MWC. The Nougat Android OS -powered smartphone arrives as BlackBerry's latest Android device to pack a full QWERTY keyboard, no doubt in a bid to attract BlackBerry purists and business customers.
BlackBerry KeyOne release date
When is the New Blackberry Coming Out? The BlackBerry KeyOne is now available since last week in the UK, having launched exclusively at Selfridges online store on 27 April. BlackBerry KeyOne is also available to pick up from the likes of Carphone Warehouse and Clove store. At Clove first stock will available at 22 May.
For US market, no further information so far when BlackBerry KeyOne release date . But old series like BlackBerry Priv is no longer on sale in the US BlackBerry store. They prepares for the availability of the BlackBerry KEYone.
BlackBerry KeyOne Price
TCL has confirmed that the Mercury handset will cost £499 in the UK. Over at Carphone Warehouse, pick up the BlackBery KeyOne SIM-free for £499.99. It can also be picked up on tariffs with O2 and Vodafone, with prices starting at £19.99 on a £32 month tariff that comes with 500 minutes, unlimited texts and 500MB data. At Clove 32GB version price is £415.83 Ex VAT and Inc VAT is £499.00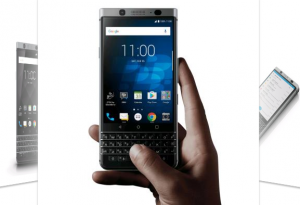 Specs
The BlackBerry KeyOne's QWERTY keyboard doubles up as a makeshift trackpad, mimicking the BlackBerry trackpad of old, and all 52 buttons can be programmed as customisable shortcuts. There's also a fingerprint scanner built into the spacebar, adding an extra layer of security to the device.
Reasons To Buy BlackBerry KEYone
Nougat  Android OS
4.5" scratch-resistant touch screen display
4 row QWERTY keyboard
Swipe navigation and gestures via the keyboard
Programmable convenience key
32GB internal storage
3GB RAM
MicroSD memory card slot
8MP front camera with flash
12MP auto-focus large pixel rear camera
Fingerprint sensor
BlackBerry security software
USB Type-C connector
RGB notification LED
Colour and memory varia

Tags: