New Verizon Unlimited Data Plan Package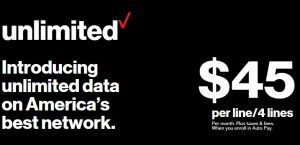 U.S based wireless companies, Verizon just announce new package for unlimited data plan cost this month. Verizon that have 4G LTE network covers more than 2.4 million square miles in the US and 314 million people offers Verizon unlimited data plan starts from $45 per month. Verizon advertise yell is "Not just unlimited but Verizon unlimited".
You can play HD video streaming and mobile hotspot included for no extra charge with choose this Verizon unlimited data plan. You'll never go over again. An unlimited plan is only as good as the network it's on. If you don't need unlimited data, you may also choose a size that works for you start from S size for 2GB per month until L-size with 8GB/mo.
S 2GB
M 4GB
L 8GB
U unlimited
For U unlimited data package, the pricing start from $45/line/month if you buy 4 lines. If only 1 line the cost is $80/mo. Below is pricing details.
4 lines $45/line
3 lines $54/line
2 lines $70/line
1 line $80/mo.
Above prices already include taxes & fees. When you enroll in Auto Pay you also get 1 line: $80/mo = $65 account access fee less $5/ Auto Pay enrollment discount, plus $20 line access fee. 2-4 lines: $110 account access fee less $10/mo Auto Pay enrollment discount, plus $20 line access fee/smartphone. Auto Pay (checks or debit cards only) & paper-free billing req'd.
With this Verizon unlimited data plan you will get
Unlimited Data
Unlimited Talk & Text
HD video streaming
Mobile hotspot
Calling/texting to & from Mexico & Canada
Don't forget to remember that unlimted data is for 4G LTE only. When you activate mobile hotspot/tethering reduced to 3G speeds after 10GB/month and domestic data roaming at 2G speeds. International data reduced to 2G speeds after 500MB/day. If more than 50% of your talk, text or data usage in a 60-day period is in Canada or Mexico, use of those services in those countries may be removed or limited and discounts become not available.

Ok, that's all for new update regarding Verizon unlimite data plan pricing. Choose your best wireless operator yourself.

Tags: