AT&T Call Protect review
Are you tired of spams? AT&T Call Protect is the best application for blocking spam calls. The application has been designed to warn subscribers before they end up picking calls only to realize they are spams. The app will show an alert informing you to be careful before picking any call that is likely to be a spam. The application will block future calls from the same number if it is a spam. The app has similar features to the built-in blocking features in both IOs and Android. Here are AT&T Call Protect review.
The app is free for AT&T customers and can be downloaded in a matter of minutes. The application uses call's network in blocking any fraud calls as well as assist to block any unwanted calls in a manual way. If you want to take control of all nuisance callers who have been bothering you in the recent past then this is the application you need for the same. Customers with voice enable Smartphones can also take advantage of the free application to block fraudulent callers.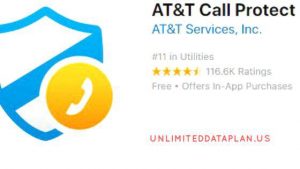 Here are  the features of the applications.
Automatic blocking: The feature detects and then bars any spam or calls from suspected fraudsters even before your gadget rings. This implies that the calls from fraudsters will not go through once you have installed the application on your device.

Reviewing calls: The application can also review all the blocked calls in order to allow you receive them in the future. If you have blocked anyone suspected to be a fraudster then you can use this feature to unblock him or her so that the calls can go through.

Fraud Warning: The feature warns you about suspected scammers. It tends to identify telemarketers and other calls from scammers such as debt collectors and politicians before notifying you about the same. The feature applies in HD voice areas of coverage. Once the application has been installed, you will never pick calls of persons you are not aware of their identity without your knowledge.

Blocking: The app also allows users to block calls from specific persons at their own will. The blocking can be undertaken manually from your end.

Security: The application has a mobile security that enables users to protect their phones from viruses, malware and systems threats among other issues.

Report fraudsters: If you want to get the identity of your potential scammers then you can use the application for the same. The app will provide you with information on the suspected spam as well as likely calls from fraudsters. The reports can be used by the application developer to continually improve the service

In conclusion, AT&T Protect is not only effective but also easy to use. The application can be used to detect calls from suspected fraudsters. It has been made such that it can be used to block calls from suspected con artists without going through much hassle. The application is free hence you will not incur any cost to secure your information. In addition, it has a mobile security feature for protection against different threats.

Tags: