Straight Talk Plans Prepaid Unlimited for $45
Straight Talk Phone Plans
Straight Talk, a product of TracFone Wireless offers Straight Talk Plans Prepaid for unlimited talk and text and also unlimited data only for $45 per month. It's the cheapest plan that offered by Straight Talk.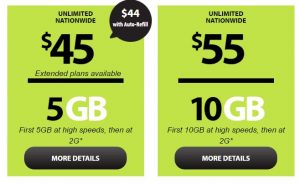 With this $45 for single line you will get
– 30 Days active time
– No Contract, Prepaid plan
– Unlimited Nationwide for Talk and Text
– Unlimited Data with the first 5GB at high speeds, then will reduce at 2G. At 2G speeds, the functionality of some data applications such as streaming video or audio may be affected.
Straight Talk also offers if you want save time and money you can pay extended plans package with discount cost.
– 3 Months for $130
– 6 Months for $255
– 1 year for $495
Straight Talk Plans Prepaid
If you feel unlimited data quota 5 GB not enough,  you can choose $55 per month prepaid plan. with additional cost $10, you can get unlimited data quota to 10GB for high speed. Then after that reach, speed will reduce at 2G.

Please note to get 4G LTE speed, you must have a 4G LTE capable device and 4G LTE SIM. Actual availability, coverage and speed may vary. Based on a comparison of the average cost of the $45 Straight Talk Service Plan plus average sales tax and fees and the average total monthly cost on an individual 2-year service contract plan with unlimited talk, text and comparable high speed data on the top two carriers. Plan costs include all taxes, fees and overage charges.

TracFone Wireless operates as a mobile virtual network operator (MVNO), holding agreements with the United States' largest wireless network operators to provide service using their networks, including Verizon Wireless, AT&T Mobility, T-Mobile US, Sprint Corporation, and U.S. Cellular. TracFone Wireless had 25.15 million subscribers in third quarter 2016. Other brands from TracFone Wireless are TracFone, NET10 Wireless, Total Wireless, SafeLink Wireless and Telcel América etc.

Tags: