Apple Sell LG Monitor Start From $699.95
Apple sell LG Monitor in their web online store. Now they recommends the LG UltraFine 5K Display for new MacBook Pro customers. While the industrial design doesn't match Apple's hardware, the UltraFine 5K screen is Retina resolution like 5K iMacs and connects using the new Thunderbolt 3 I/O. Apple sell LG UltraFine start from $699.95 for 4k series and $1,299.95 for 5k display.
With a stunning 5120-by-2880 resolution and P3 wide color gamut, the 27-inch LG UltraFine 5K Display brings your favorite photos and videos to life. So whether you're watching a movie or editing an image, this high-performance monitor delivers immaculate 5K resolution for even the most pixel-packed visuals.
A single Thunderbolt 3 cable (included) provides up to 85W of charging power to your MacBook Pro with Thunderbolt 3 (USB-C) ports. And three downstream USB-C ports (5 Gbps) offer additional connectivity and power to compatible devices and accessories. Built-in stereo speakers, camera, and microphone deliver a rich media experience. And with over 14.7 million pixels, you won't miss a single detail of your next design layout, photo edit, or FaceTime call.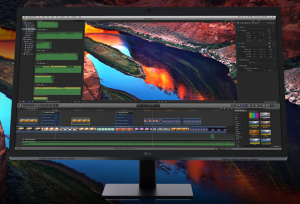 For Mac users, LG UltraFine 5K Display is the closest thing to a modern Apple Thunderbolt Display. Apple introduced the LG monitor at its MacBook Pro event back in October and said the two companies collaborated on its creation.

The screen measures 27-inches diagonally and can display 2560 x 1440 like the Thunderbolt Display but at Retina resolution so the screen is super sharp.

UltraFine 5K misses out on Apple's industrial design and can't be daisy-chained together like Thunderbolt Display, but Apple's new 15-inch MacBook Pros can drive up to two UltraFine 5K Displays when both are connected. UltraFine 5K Display also powers connected MacBooks over Thunderbolt 3 so you can use one over a single cable without also connecting a charger.

Tags: