US Cellular Unlimited Data Cost just for $40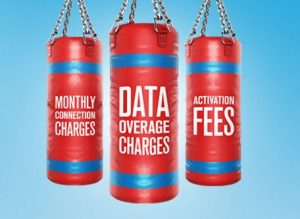 A cellular Company, US Cellular offer new unlimited data plan package for just $40 per month per line with 4 lines.
US Cellular claim this TOTAL PLANS promotion with no hidden fees. It means US Cellular Unlimited Data will charged $160 per month if you take 4 smartphone lines. It's more cheaper if you only order 1 line for $70.
With this Unlimited Total Plans, You not fed up With Hidden Fees
Knock them out with a new Total Plan.
No monthly connection charges.
No data overage charges
No activation fees or upgrade fees
You also will get more Unlimited Talk and Text messaging to Mexico and Canada. It's included in 6 GB and Unlimited Plans. Others unlimited data plan cost as below
$40/line for 4 lines and above.
$50/line for 3 lines
$55/line for 2 lines
$70/line for 1 lines

Please note you required have Auto Pay/Paperless Billing. Unlimited data plans will stream at standard definition speeds and will automatically shift to 2G when each line reaches 22GB. 2GB and 6GB data plans will stream at high definition speeds and will automatically shift to 2G when each line reaches the plans high-speed allotment.

Please also take note, Total Plan and Retail Installment Contract for Smartphone and basic phone purchases or Customer Service Agreement with a 2-yr. initial term (subject to a pro-rated $150 early termination fee for modems and hotspot devices and a $350 early termination fee for Tablets) required. Credit approval also required. A Regulatory Cost Recovery Fee (currently $2.02) applies. This is not a tax or gvmt. required charge.

Tags: