Get Awesome Credit T-Mobile Red iPhone 7 Plus only $30 per month
Get Awesome T-Mobile Red iPhone 7 plus only $30 per month if you have stellar credit with no significant issue. You just pay $150 in beginning to get 128 GB version then will pay $30 per month for 24 month. Yeah, shortly change your old iPhone to this new iPhone 7 Plus Red Special Edition.
Starting this Friday, pick up the just-announced iPhone 7 and iPhone 7 Plus RED Special Edition in a vibrant red aluminum finish and iPhone SE models online and at participating T-Mobile stores nationwide. Available option storage for 32GB, 128GB and 256GB version.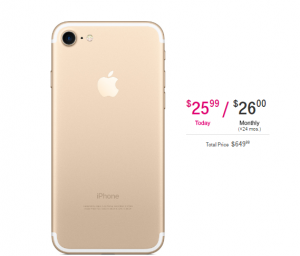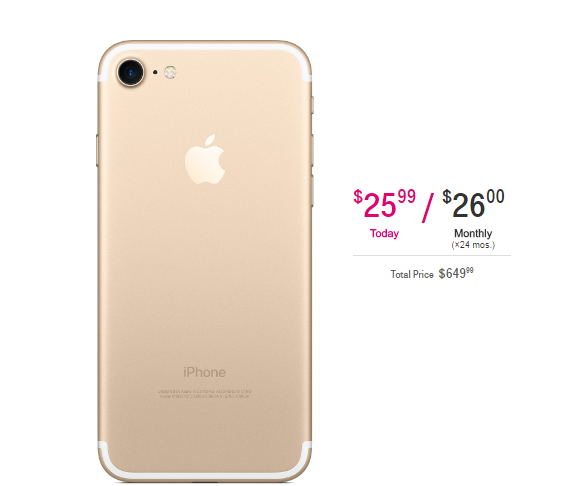 T-Mobile Red iPhone 7 Plus Pricing
Here's how the prices break down in detail for you that have stellar credit.

iPhone 7 32GB: $25.99 down, $26 per month for 24 months ($649.99 total)
iPhone 7 128GB: $125.99 down, $26 per month for 24 months ($749.99 total)
price for iPhone 7 256GB: $225.99 down, $26 per month for 24 months ($849.99 total)
iPhone 7 Plus 128GB: $149.99 down, $30 per month for 24 months ($869.99 total)
iPhone 7 Plus 256GB: $249.99 down, $30 per month for 24 months ($969.99 total)

If you have average credit with pretty normal credit score, below the detail price

iPhone 7 32GB: $505.99 down, $6 per month for 24 months ($649.99 total)
iPhone 7 128GB: $581.99 down, $7 per month for 24 months ($749.99 total)
price for iPhone 7 256GB: $657.99 down, $8 per month for 24 months ($849.99 total)
iPhone 7 Plus 128GB: $653.99 down, $9 per month for 24 months ($869.99 total)
iPhone 7 Plus 256GB: $729.99 down, $10 per month for 24 months ($969.99 total)

The red iPhone 7 and iPhone 7 Plus are the same as the other models when it comes to specs, too. The one big difference is that they've got shiny red backsides. When customers purchase a PRODUCT(RED) device like these iPhones, you have contribution to the Global Fund to help fight HIV/AIDS.

Tags: