T-Mobile Free iPhone 7 Offers
This is screaming  news for you. Now is the time to get a new T-Mobile free iPhone 7. Starting yesterday, March 3, anyone who brings their number to T-Mobile can get an iPhone 7. Or if you choose iPhone 7 Plus you just add $100. This amazing offers is available for new and existing customers, but this promotion only until Thursday, March 16th. So please take note the timing.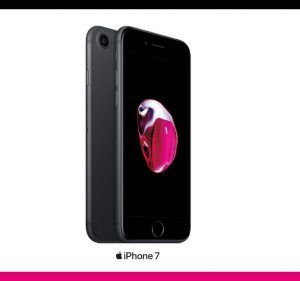 John Legere, president and CEO of T-Mobile said "As if you needed any more reason to join the Un-carrier—now, you can switch the family to T-Mobile, get everybody a new iPhone 7 on us AND get yourself an extra line for free". He continues "T-Mobile customers are the most satisfied in wireless, and I want every single carrier customer out there to switch over NOW and see why!" as quote from their press release.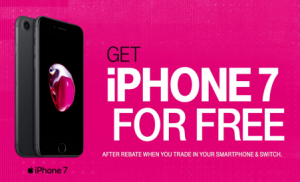 How to get T-Mobile free iPhone 7 ?
How to get your new T-Mobile free iPhone 7 or iPhone 7 Plus? just simply bring your number to T-Mobile and sign up for T-Mobile ONE—with monthly taxes and fees included. Trade-in any qualifying phone and get your new iPhone on T-Mobile's interest-free Equipment Installment Plan (EIP). You'll get instant credit for your trade-in, and then, after registering online, you'll get a prepaid MasterCard® in the mail with your rebate which you can apply to your remaining EIP balance.

Have if you have a big family or small business? No problem. This offering is good for up to 12 iPhone 7 devices—all on us! It means you can get free iPhone 7  up to 12 pcs. Wow!

It's never been a better time for carrier customers to give the Un-carrier a look. On top of all these freebies, you'll be on T-Mobile's super advance, and  fastest LTE network. T-Mobile claims they as  the nation's fastest according to multiple sources such as Speedtest.net, Twin Prime, and even the FCC.

To get your T-Mobile free iPhone 7 on the house after rebate, head in to any participating T-Mobile store. For more information on this offer, please you can visit www.t-mobile.com/offers/iphoneoffer

Tags: