T-Mobile 3rd Line Free Offer
Starting Wednesday, March 1st, T-Mobile, giant wireless company offer their current customers an ENORMOUS thanking. The gift thanking is an additional line of service for absolutely FREE. If you T-Mobile customer with at least two voice lines you can get an additional line for free after bill credits. This is T-Mobile 3rd line free offer.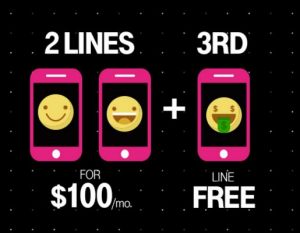 John Legere, president and CEO of T-Mobile said "Today, I'm thanking customers by giving them one of the things they want the most – a way to connect more of their family or more of their devices all the time," as quote from their news room. "That's why we're giving customers a free line to use any way they choose!" he continues.
If you are current Un-carrier customers with at least two voice lines you can use that extra line however you want. Get an extra line of unlimited T-Mobile ONE. Or if you have Simple Choice, you'll get an extra Simple Choice line with your same data plan. You also can use your free line for a new tablet or smartwatch. Or you may turn your car into a 4G LTE hotspot and a lot more with SyncUp Drive.
Current offer of two lines of T-Mobile ONE for $100, getting an extra line free. It means you can now get 3 lines of T-Mobile ONE for that same $100 a month with AutoPay! This offer applies to all those with T-Mobile ONE, Simple Choice and Simple Choice No Credit plans – almost anyone with two or more postpaid voice lines. Even you have small businesses with up to 11 lines can get in on the deal on their T-Mobile @Work account.
T-Mobile 3rd Line Free
Note this deal will be available for a limited time only, you can keep your free line as long as you're on an eligible T-Mobile plan and in good standing or until you make changes. To add your free line, just come into any participating T-Mobile store.

Please remember on all T-Mobile plans, if congested, top 3% of data users (>28GB/mo.) may notice reduced speeds due to prioritization. Sales tax & regulatory fees included in mo. service price. Qual'g credit req'd. Customers cancelling a line on or after 2/27/17 not eligible. Taxes/fees may be applied to pre-bill credit price on some legacy plans. Ok, enough info for T-Mobile 3rd line free offers.

Tags: